Posted by
Ceebas
in
Uncategorized
Following our big night at Mansion, we woke up mid-afternoon to a beautiful sunny day. After grabbing a healthy lunch at an outdoor patio nearby and realizing that we had managed to sleep all the way to the beginning of happy hour, we made our way back to the apartment and started planning our party itinerary for the night. The DJ Mag pool party at the Shelborne sounded like our best option to start with so we headed from downtown to South Beach around 7 PM. As soon as we stepped out of the cab, we could hear the thumping beats coming from the back of the hotel. Downing the rest of our vodka Red Bulls in hopes of dissipating the last of the previous night's hangover, we headed for the entrance, got our wristbands and were instantly dropped into a sea of half-naked, drunk twenty-somethings, grinding and fist-pumping to James Zabiela's music.
His style is definitely unmistakable and long before we could see who was behind the decks, we definitely knew it was him. What other house DJ's do you hear scratching in the middle of their set or use the effects as much as this guy does? The constant adding of various sounds and effects give his music that distinctive mechanical thumping sound, and the pool-side crowd was eating it right up.
Towards the end of his set, through Farshad's connections, we found our way back stage into the VIP area where we connected with Carl Craig and his entourage. Having met Carl in Vancouver a few weeks before when he played at Lotus definitely helped make the experience surreal for us as he and his lovely wife introduced us to their close friends: Luciano, Matt (Radioslave) and another Detroit techno legend Stacey Pullen.
After Carl's set, we were invited to tag along to the Planet-E party next door, at Shore Club, where Carl opened up with some soul for the first hour as a few of us grabbed a bite to eat and mingled before the crowds arrived. As much as we loved hanging out with our newfound friends, this was still only our second night in South Beach, and with that many things happening, we were itching to go out and explore other clubs and parties. Shortly after meeting up with JJ and his sister, who had just arrived form Vancouver, we decided to get a move on.
One artist I really wanted to see this week was Joris Voorn. For the past two years, I have bought most of his releases and I was really anxious to hear what he sound like live. Having turned Farshad into a huge fan himself, to the point where he bought all of his releases on vinyl, he was just as excited to see him as I was. The Rejected showcase featuring Voorn was taking place at Set, another beautifully designed nightclub in the heart of South Beach, so we decided to head that way and check it out.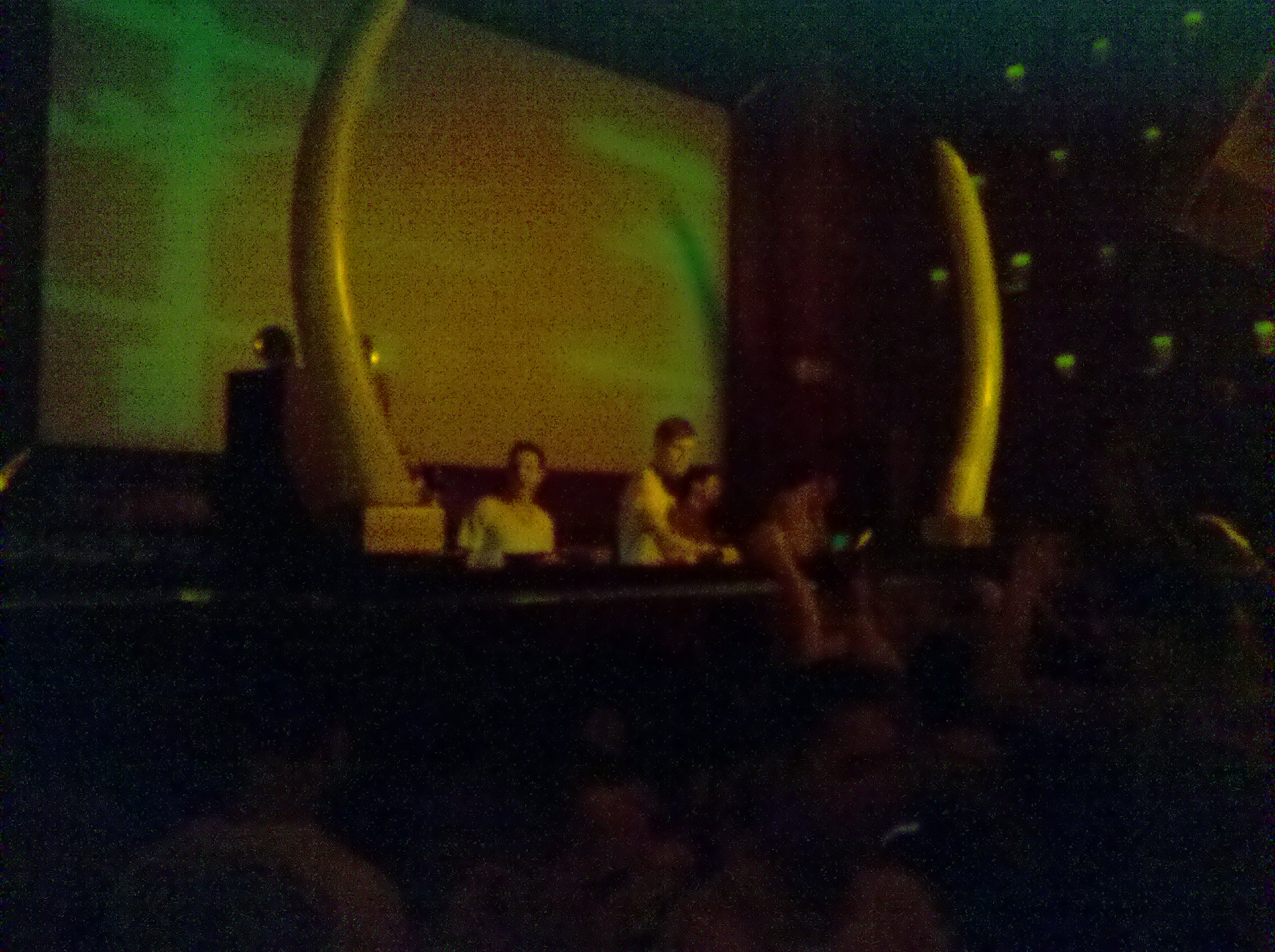 After a couple rounds of shots and some exploring around the club, we claimed our spot on the dance floor as Joris Voorn was getting ready to play. As soon as he got on, the energy in the club shifted and the vibe became more bouncy, driven by the classic house beats. Over the course of the following hour and a half, he took his set from house to tech-house with a slight diversion into the Double 99 classic speed garage anthem Rip Groove, all the while keeping the constant funky bass line that has become his signature. Overall, I would have to say this was the best DJ set I have heard so far this year and with so much happening this week, I am really happy we managed to catch it.
We left the club around 4:00, made one last quick appearance at the Shore Club where we had the pleasure of meeting Martin Buttrich. From there, we went for some late night eats at Gerry's diner, where we were served sliced avocados and told to make our own guac, as well as poached eggs that looked like they were boiled in urinal water. Note to self: stick to cheap pizza slices.
So far Miami Music Week has been amazing and I can't wait to see what tomorrow has in store for us.